We offer very competitive rates on loans for New and Used automobiles, signature loans and mortgages. Check our current rates on the
ORLEX Rates Board
. While you're there, click on our
loan payment calculator
to figure payments on any amount.
Surcharge Free ATM's
Visit the following ATM's for surcharge free transactions:
ORLEX Government Employees Credit Union
- 5043 US Route 5 Newport, VT
North Country Federal Credit Union Branches
- 12 Main St Orleans, VT
- 1474 East Main St Newport, VT
- 39 Lower Mountain View Dr Colchester, VT

Vermont Federal Credit Union Branches
- 55 Old Orchard Drive St. Albans, VT 05478
- 172 South Main Street St. Albans, VT 05478
- 4 Centre Drive Milton, VT 05468
- 193 US RT 2 Grand Isle, VT 05458
Check back here soon for more locations to be added.
Phone:
(802)334-5084
Toll Free:
(877)ORLEXCU
Fax:
(802)334-3846
Office Hours:
8:00-4:30 M-F
Mailing address:
ORLEX Government Employees Credit Union
5043 US RT 5
Newport, VT 05855
Physical address:
5043 US RT 5 - Derby Road
Newport, VT 05855
ORLEX News
Dates to Remember
The office is closed on the following dates:
Christmas December 25, 2023
New Year's Day January 1, 2024
Our New VISA Check Cards are here!
Please click here for more info! From the telephone number that we have on record for you, ACTIVATE & SELECT your PIN# by calling: 1-866-985-2273.
To Report a Lost or Stolen Debit Card
Please call toll free: 1-866-643-9080
Now Available!
Mobile Deposits are now available in your ORLEX app. Agree to the Terms & Conditions and begin making mobile deposits!
Featured Product:
Mobile Banking is Now Available!
Click on your App Store badge above and download our App today! Enrollment in Virtual Branch online banking is required; click on the Virtual Branch tab above and enroll for immediate access to all of your ORLEX accounts!
Attention Vermont State Employees
Now offering membership to Vermont State Employees living and/or working in Orleans County, along with their family members. Please contact us for more information.
NCUA Insurance Information
Deposit Insurance Increased to $250,000.00
The National Credit Union Administration, an agency of the federal government, insures all deposit accounts at the ORLEX Credit Union to $250,000.00. Click here to view a brochure, How Your Accounts are Federally Insured for more information.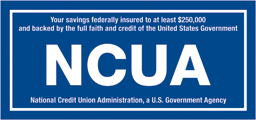 Copyright © ORLEX 2015-2023. All Rights Reserved.